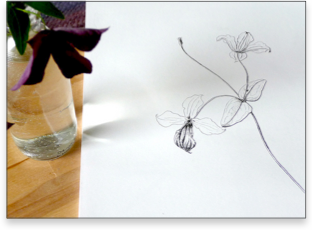 Sigrid Frensen is a Dutch botanical artist who lives in the North of the Netherlands. Although she always loved nature and painting, she didn't combine the two until 2004. In that year she did her first course in botanical art in Leiden at the Hortus Botanicus. Her tutor was Anita Walsmit Sachs. This course would be a turning point in her life. Since then she joined several other courses and masterclasses with Valerie Oxley, Ann Swan and Anne-Marie Evans. Sigrid now teaches botanical art herself too.
Although she concentrated in the first years on coloured pencil work, she now also works a lot in watercolour. Another favourite medium is graphite pencil. It depends on the subject which medium she chooses.
In 2006, Anita Walsmit Sachs asked Sigrid and a few other artists to help her start the Dutch Society of Botanical Artists. It's a growing and active society with many talented members. Every year there is a big exhibition with beautiful work of the artists.
In 2011 she attended for the first time the annual exhibition of the SBA in London. It was a wonderful experience.
Beside the botanical art Sigrid also works occasionally on other projects. One of those was the development of lessons about art and nature. One of the first lessons was about the life-cycle of frogs. Some of the illustrations for that project are shown in the slideshow below. There are also some other examples of non-botanical artwork.